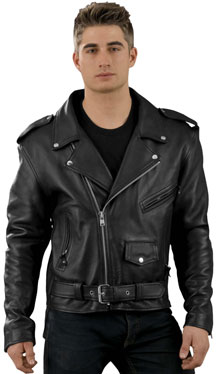 Our Mens and Young Mens Imported Leather Biker Jackets are made of Premium Buffalo Leather
SIZES 30(Junior Boys 14), 32(Junior Boys 16), 34(Junior Boys 16-18), and 36(Mans Small), NOW AVAILABLE!
and have a diagonal front zipper and half belt. There are epaulets and a coin pocket. This is a great first time buyers leather jacket at a very affordable price; or a good leather jacket for school that you don't have to be super careful with. The stitching is nylon and it has a good quality lining. As experienced leather jacket manufacturers we buy imported leather jackets from companies that produce Leather jackets with consistent quality and workmanship.
SALE PRICE $129.95
Sizes 30-46 Sizes 48-60 are more.
Click on the order button to see the price on each size.

Order from leather.com here