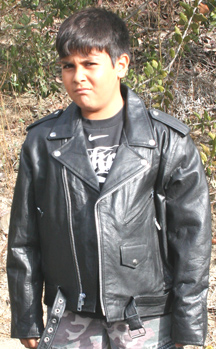 | | | |
| --- | --- | --- |
| | | More views |
Kids K1010 Kids Motorcyle Leather Biker Jacket

(SKU # K1010)
COWHIDE TOP GRAIN LEATHER
Retail Value = $225.00
Internet Sale Price
$99.95

Size Available:
2(xxs), 4(xs), 6(s), 8(s-m), 10(m), 12(m), 14(m-L), 16(L) 18(XL) 20(2X)

This jacket is made for boys & girls.



KIDS BIKER STYLE K1010
Order from Leather .com

The K1010 Kids Motorcyle Leather Biker Jacket.
The K1010 Kids Biker Jacket is offered in sizes 2-20 so it will fit Kids and Junior Boys or Girls. Our Biker Jacket is made of genuine leather and has Silver Hardware -Snaps, Buckles, Front Zippert, Zip Pockets and Sleeves. All sizes are on hand now.We also have the C128 Mens Economy Biker Jacket ($99.95) and C1950 Mens Top Grain Biker Jacket ($125.00) Basic Motorcycle Jacket for Junior Boys who are tall and slim starting in Sizes 26 (12), 28 (12-14) 30 (14), 32(16), 34(18), and 36 that fit larger Boys who would wear a Slim.. Basically the K1010 runs shorter on the Sleeves and Body Length than the K1910. Worried about sizes? Call us at 800 232-6626

Features:
Genuine Leather
Zipper Front
3 Zip Pockets
1 Snap Coin Pocket
Snap Epaulets on Shoulders
Half Belt
Zipper Sleeves
Snaps on Collar and Lapels

Back to School or Birthday Gift Idea!