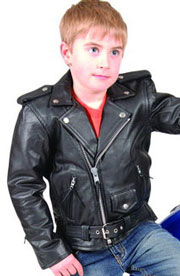 The Imported K2805-Kids MC Leather Motorcycle Jacket
XS(4), S(5), M(6), l(7), XL(8). 2X (10), 3X (12), 4X(14), 5X(16)
Great Biker jacket is all leather and has the Classic Motorcycle Jacket pattern with the Half Belt, 3 Front Pockets, Coin Pocket and Zipper Sleeves. The smaller sizes are Goatskin and the 2X-5X are Lambskin but both leathers are more supple and little lighter weight than Cowhide.

PLEASE DOUBLE CHECK THE SLEEVE LENGTH BEFORE ORDERING BECAUSE SOME KIDS ARE TALL AND LANKY AND ALMOST INTO ADULT SIZES BUT NEED SLIMS. WE HAVE LISTED A SIZE CHART BELOW TO HELP AND THE MAIN THING IS THE SLEEVE LENGTH!
We also have the C128 Mens Economy Biker Jacket and the Style C1950 Mens Top Grain Biker Jacket-a Basic Motorcycle Jacket for Junior Boys who are tall and slim starting in Sizes 26 (12), 28 (12-14) 30 (14), 32(16), 34(18), and 36 that fit larger Boys who would wear a Slim.. Basically the K2800 runs shorter on the Sleeves and Body Length than the K1910. Worried about sizes? Call us at 800 232-6626