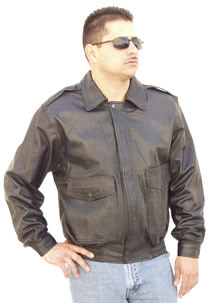 G100 Mens Leather Aviation Bomber Jacket -

Regular and Longs Sizes. BIG MENS SIZES!

(SKU # G100)

Retail Value = $250.00
Sale Price
$149.95

Size Available:


40, 42, 44, 46, 48,
50, 52, 54 and 44-54 longs
Up Size $10.00 extra each size:
48, 50, 52, 54 and 44-54 longs

CLOSE OUT! NOT ALL JACKETS ARE THE SAME. SOME HAVE CELL PHONE POCKETS AND SOME NOT, SOME HAVE LINERS AND SOME NOT. WE HAVE MOSTLY BLACK IN 46-52 AND DARK BROWN IN 44-48 AND DARK BROWN LONGS IN 44L-48L.

PLEASE GIVE US A CALL FOR AVAILABILITY OF YOUR SIZE SINCE THIS IS A CLOSEOUT ITEM.
The G100 Mens Leather Bomber with Removable Liner
Makes a great all round jacket you will have for year!
Limited to sizes on hand!
This Imported Bomber Style Jacket is offered in Dark Brown or Black Goatskin Leather and is used by many airlines and corporations for employee recognition. It has Leather Cuffs and a Waistband. There are snaps at the waistband and neck. Patch Pockets have Flaps and Snaps. Stitching is nylon.