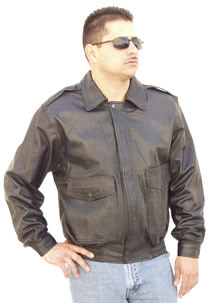 G100 Mens Leather Aviation Bomber Jacket - longs, too

(SKU # G100)

Retail Value = $250.00
Internet Sale Price
$139.95

Size Available:


40, 42, 44, 46,
Up Size $10.00 extra each size:
48, 50, 52, 54 and 44-54 longs

CLOSE OUT! NOT ALL JACKETS ARE THE SAME. SOME HAVE CELL PHONE POCKETS AND SOME NOT, SOME HAVE LINERS AND SOME NOT. WE HAVE MOSTLY BLACK IN 46-52 AND DARK BROWN IN 44-48 AND DARK BROWN LONGS IN 44L-48L.

VALUE IS THERE (retail for up to 250.00) AND THEY MAKE GREAT PRESENTS AND COOL WEATHER JACKETS. GOATSKIN IS LIKE COWHIDE BUT WAS LEATHER LEATHER OF CHOICE IN THE G1 NAVY FLIGHT JACKET WWII THROUGH 1964.
The G100 Mens Leather Bomber with Removable Liner
Makes a Great Gift or Birthday Present!
This Imported Bomber Style Jacket is offered in Dark Brown or Black Goatskin Leather and is used by many airlines and corporations for employee recognition. It has Leather Cuffs and a Waistband. There are snaps at the waistband and neck. Patch Pockets have Flaps and Snaps. Stitching is nylon.